Ah, in between major repairs, I got the bug to finally get rid of the guitar bridge on the bass. I'm not crazy about the overall design, but it appeared fairly simple to make, but as a proper bass bridge with four saddles. I looked at the one that's been loitering on Ebay for $750.00, and a decent aftermarket replacement, but that, too was over a hundred bucks. So, pretty much because I've never made a bass bridge like this before, I decided to go ahead and make one. I started with 3/4" Aluminum channel, and some 3/4"x 1/8" aluminum bar stock. Both from Home Depot. The object here was to build it as cheaply as possible- my time would not be factored in, as this is an educational process for me... I'm 67 almost 68, and still learning.
I got some 8-32 multi head screws, and bolts. I also got some 6-32 Allen socket head stainless screws, and some small springs.
I took a bunch of measurements, drew it all out on a pad, and went into the shop. Four hours later, I had a new bridge. Last night, I made the final piece, the body plate that the bridge sits on. The original Rick 4005 bridge on Ebay, is surprisingly quite crude in some ways, I didn't really want to just make a piece of junk, I wanted it heavier than the original, slightly 'overbuilt' if you get me. No, this bridge is not Callaham quality, but it's beefier than the Chinese one, and has four saddles, like a four string bass should have. I'm pleased with the results. Yes, I could take it apart and really refine it, even have some made by a machinist..but this is just a one-off. Following this text- are some summary pics of the build.
Attachments: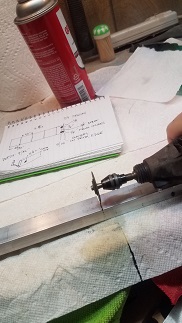 layout and first cut.jpg [ 36.56 KiB | Viewed 2756 times ]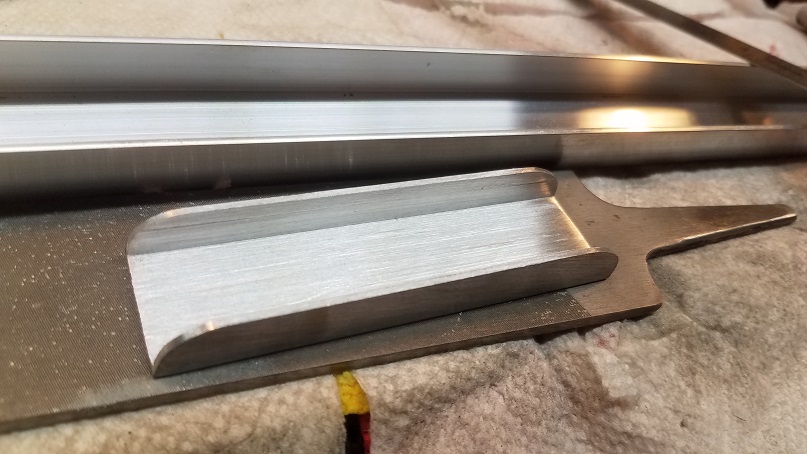 shaping the base.jpg [ 125.9 KiB | Viewed 2756 times ]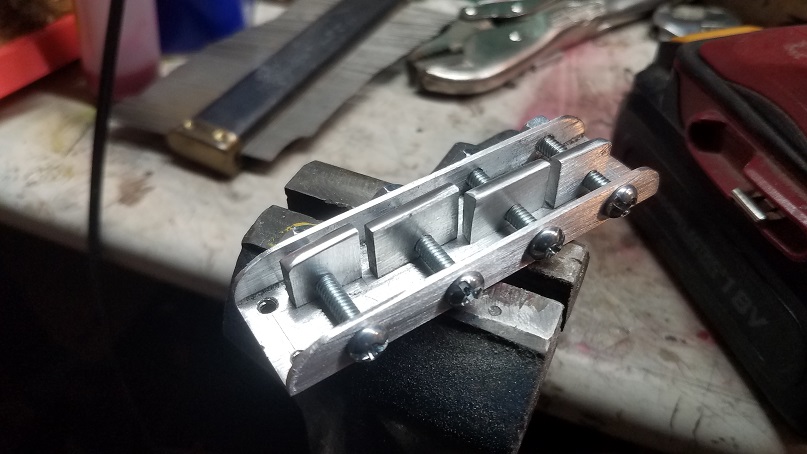 First trial assembly.jpg [ 113.89 KiB | Viewed 2756 times ]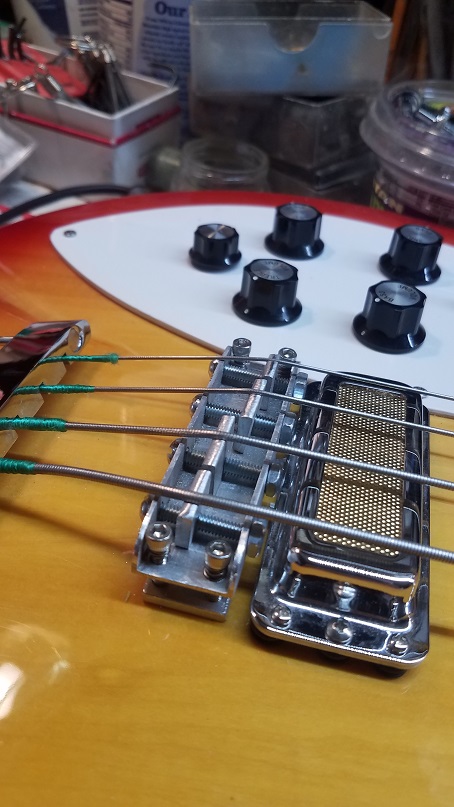 Finished, and on the bass.jpg [ 128.46 KiB | Viewed 2756 times ]