It's one thing to craft a neck that caresses you back, adjusts like a fine watch, holds its form thru environmental extremes, and effortlessly delivers the goods night after night after night. As a player, I need to know that what I build is going to hold-up in situations that are far beyond the average live or studio session. As a builder, I need to know that when I send a product out, it will thrive in environments significantly different than the shop and final QA studio here in Seattle. As a businessman, I need to know that all of my profits aren't going to be eaten up by endless warranty work.
Not very often do you see builders offering up one of their crafted masterpieces to -that- corner of the shop … but that's exactly what we did this afternoon here at the RGW ranch, proving again that our necks can endure more than their share of unexpected chaos and defiantly stand up to the (fat) man
Attachment: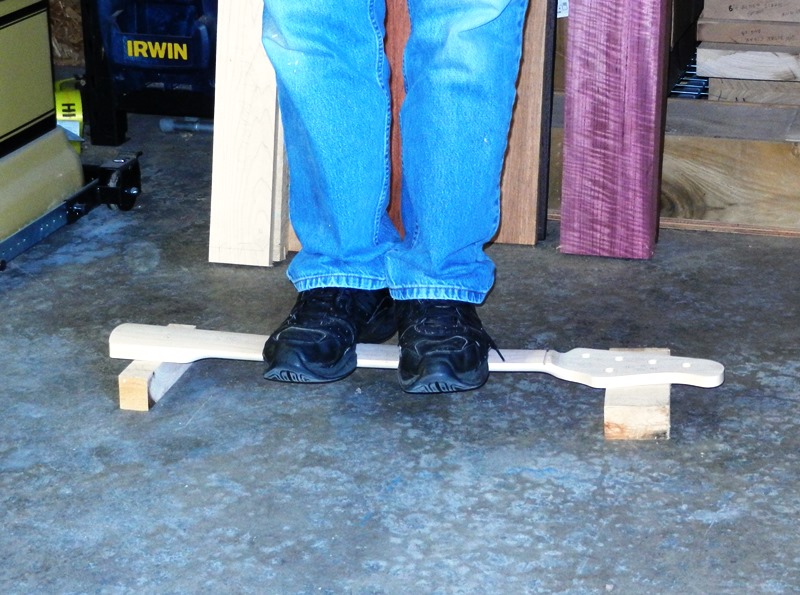 RGW_ProtoNeck_5-string_220PoundLiveLoadTest.jpg [ 173.69 KiB | Viewed 31387 times ]
Here's a grab shot from today's +220 pound live-load test being performed by the only one in the shop willing and able to set the neck on a pair of Alder blocks, crank up Van Halen … and JUMP!
Just in case you're interested in neck specs, this is one of our VRB 5-string 1-piece Maple necks with a Maple fretboard, 1-7/8" nut width, dual action trussrod, and NO carbon fiber (or any other king of) stiffening bars. It's a modern 'C' shape that's 0.80" thick at the first fret.